Bob Knollenberg Sr. and Darryl Minchow were partners when B & D opened in 1953. Six months into the partnership, Knollenberg bought Minchow's interest for $500, which Knollenberg promptly used to purchase the car inventory.

Bob Sr. juggled his business ownership with a full-time job at the Lincoln Fire Department. Much of the dealership's success is attributed to his late wife, Eunice, who was the first woman to interrupt Lincoln's exclusively-male sales force in the car business. She died in 1982.

B & D originated at 541 N 48th St. They added a second location, at 4820 Cornhusker Hwy., in 1976, and closed the original location in 1978.

Bob Jr. would like to acknowledge and salute four dealers, besides his father for teaching him the ropes: Dick Flynn, Dick Flynn Buick, Guy Dean Ford, Larry Pickering, Williamson Olds, and Spence Vannenan; formerly with Meginnis Ford.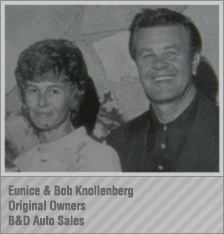 Bob Knollenberg, Jr.